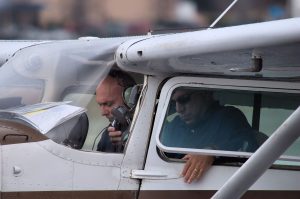 Jump in the Plane
If you need instruction, we use Augusta Aviation's FAA Certified Flight Instructors. You will join the club as a student pilot. Get keys to the planes. Schedule with your instructor and schedule the plane you wish to use. Meet you instructor at the scheduled time and plane. Enjoy a special privilege that few get to experience. You will be in control of an airplane.
We are a group of like minded flyers based out of Daniel Field in Augusta, GA. We are currently looking for new members.
We have two Cessna 172N's based out of Daniel Field. Both planes are IFR equipped. They rent for $105 to $115 an hour wet.
The club dues are $85 a month, which entitles you to sign out the planes any time, including overnight.
For further information, contact us at info@augustaflyingclub.com.